Nordic Irish Studies Journal issues 2017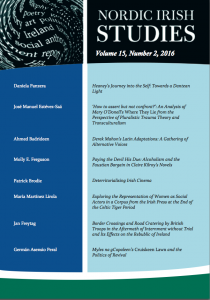 We are delighted to be able to announce the publication of two issues of Nordic Irish Studies in 2017: a regular issue edited by Billy Gray and Carmen Zamorano Llena, and a special issue, entitled 'Discourses of Inclusion and Exclusion: Artistic Renderings of Marginal Identities in Ireland', guest edited by Pilar Villar-Argaiz. NISN members will automatically receive a copy of both, and copies can also be purchased by contacting Carmen Zamorano Llena at cza@du.se or Billy Gray at bgr@du.se.
Announcement of Graduate Student Funding in Irish Studies
Concordia University, Montreal
Building on the growing number of graduate students attracted to Irish Studies at Concordia University in Montreal, the School of Irish Studies, with the generous support of the Canadian Irish Studies Foundation, is delighted to announce a major new funding initiative for incoming Master's and PhD students. All students supervised by faculty or fellows in the School of Irish Studies in any discipline (History, Literature, Theatre, etc.) or in interdisciplinary programs (HUMA, INDI) are eligible to apply.
Successful applicants can secure up to $20,000/year for 4 years for a PhD, or $12,000/year for two years for a Master's, by combining Irish Studies financial support with other sources of funding (e.g. external grants, Graduate School and/or program fellowships, teaching or research assistantships, etc.) during the first four years of a PhD or two years of an MA degree.
To apply, applicants should first visit the webpage of the School of Irish Studies for the research interests of faculty and fellows, as well as information on graduate programs at Concordia and the full range of funding opportunities available. In the first instance, applicants should make informal contact with the appropriate professor in Irish Studies and then apply to the specific program in which they plan to enroll.  Applicants who have been accepted into their program, have applied for all available funding, and have agreement to work with a professor or fellow in School should then apply to Irish Studies for funding.
All awards will be made at the discretion of the School of Irish Studies in consultation with the School of Graduate Studies and the relevant Graduate Program Director.
CFP: XVI International Symposium of Societas Celtologica Nordica Tromsø 31 August – 1 September 2017
XVI International Symposium of Societas Celtologica Nordica will be hosted by Department of Language and Culture at UiT The Arctic University of Norway on 31 August and 1 September 2017. This will be the first time the SCN international symposium is hosted by UiT in Tromsø.
We invite papers on all aspects of Celtic Studies, including linguistics, philology, literature, history, religion and theology, art history and archaeology. Proposals for thematic sessions are also welcome. Papers should be of 20 minutes' length with an additional 10 minutes for discussion and comments. Deadline for submission of abstracts is Monday 15 May 2017. Please submit your abstract (approx. 200 words) as an email attachment to cathinka.d.hambro@uit.no.
This year's keynote speakers are Prof. John Carey (University College Cork), Dr. Clodagh Downey (NUI Galway), Prof. Aidan Doyle (University College Cork), and Prof. Joseph F. Nagy (Harvard University).
The organising committee of the symposium are Dr. Cathinka Dahl Hambro (UiT, chair of the organising committee), Prof. Jan Erik Rekdal (University of Oslo), and Dr. Eystein Dahl (UiT). Enquiries to the organisers can be directed to cathinka.d.hambro@uit.no.
There will be a conference fee of NOK 1000, which will include conference dinner on Thursday 31. August.
New issue of Nordic Irish Studies Journal
Vol. 14, 2015
Contents:
Margarita Estévez Saá: Transnationalism and Transculturality in Twenty-First-Century Irish Novels
Miriam Mara and Andrew Mara: Ireland on the Waves: Colum McCann's TransAtlantic as Intergenerational Female Immram
Aurora Piñeiro: The Evidential Artist: A Conversation with John Banville
Barry Ryan: Pregnancy, Illegitimacy and Infanticide: Abjection in James Joyce's 'The Dead'
Fiona McCann: Representing Post-Conflict Space: Belfast, Cape Town and Cruel Optimism in The Good Man
Lisa McGonigle: 'God the father and Joseph the carpenter': Faith and Fatherhood in Bruce Beresford's Evelyn
Cathinka Dahl Hambro: 'Hiberniores ipsis hibernis': The Book of Fermoy as Text-Carrier of Angl-oIrish Identity?
Margaret Lasch Carroll: Martin Glynn's Newspaper Editorials: Constructing Albany's Answers to the Irish Questions, 1913-1924
Sharon Phelan: Irish Dance during the Gaelic Revival: Conflicts of Consciousness
A new collection of critical essays by NISN members:
 Zamorano Llena, Carmen / Gray, Billy (eds)
Authority and Wisdom in the New Ireland
 Studies in Literature and Culture
Oxford, Bern, Berlin, Bruxelles, Frankfurt am Main, New York, Wien, 2016. X, 268 pp., 1 b/w ill.
Reimagining Ireland. Vol. 73
General Editor: Eamon Maher
Book synopsis:
Since the end of the nineteenth century, Ireland has witnessed a profound reconfiguration of its cultural, political, constitutional and religious identities, resulting in an unparalleled questioning of the dominant discourses and narratives that have seemingly defined the nation. The essays in this collection examine the ways in which established Irish socio cultural structures of authority and their constructs of collective identity have been challenged within literary and cultural discourses of the twentieth and twenty-first centuries. Every challenge to the purported wisdom of these authority structures adds a new facet to the complexity of Irish national identity and contributes to the continuous evolution of the 'New Ireland', a phrase often used to signify the momentous transformations of the country in times of change.
Contents:
Carmen Zamorano Llena/Billy Gray: Introduction: Versions of Authority and Wisdom in the New Ireland
Ciarán Benson: Fault-Lines of Allegiance in Contemporary Ireland: What Should the Irish Love and Fear to Act More Wisely in the Twenty-First Century?
Mary O'Donnell: Irish Cultural Connections in Poetry, Fiction and on the Street: The Writing of Jean O'Brien, Maurice Scully, Emer Martin and Other Irish Writers
John Wilson Foster: Authority and Wisdom: The Case of Lady Constance Malleson
Carly McLaughlin: «Images of Ireland that matter now»: Colm Tóibín in Conversation
Bent Sørensen: Sean-nós, sean-nua … sean-nós nua? Constructions of Authority, Tradition and Innovation in Popular Irish Music
Edwige Nault: Challenging Catholic Church Authority on the Abortion Issue since the 1980s
Carmen Zamorano Llena: The Location of the New Ireland: Redefinitions of Memory and Belonging in Sebastian Barry's The Secret Scripture
Benjamin Keatinge: The Charismatic Authority of Paul Durcan
Maciej Ruczaj: «Wise foolishness of saints»: The Evolution of Christian Ethical Radicalism in Patrick Pearse's Writings
John Braidwood: Belonging from Afar: Some Images of the North in the Poetry of Michael Hartnett
Caoimhín de Barra: Protestants Playing Pagans? Irish Nationalism and the Rejection of Pan-Celticism
Bryce Evans: The Shadow of a Gunman: Seán Lemass and National Artistic Expression
Katarzyna Ojrzyńska: A New Lens on Tending the Irish Sectarian Wound: Vincent Woods's At the Black Pig's Dyke.
At the Arts Club – Eamonn O'Doherty (1939 – 2011)
21st May – 11th June, 2015.
United Arts Club, 3 Upper Fitzwilliam Street, Dublin 2
Free Event
Irish Art Oslo are very proud to present At the Arts Club which represents work selected from over fifty years of O'Doherty's involvement with the Irish art scene.
This exhibition will include painting, print and drawing, unconnected to the artist's well known public art practice and promises to showcase the artist's diversity in style and use of medium. Included will be some previously un-shown work, direct from the artist's studio.
Eamonn O'Doherty would have first visited the United Arts Club in the early sixties and this was to start an enduring relationship. He is perhaps best known for his public sculptures, of which over thirty can be found in Ireland, England, USA and Norway. Among his landmark works are the "Crann an Oir" (Tree of Gold) at the Central Bank Plaza in Dublin and the Great Hunger Memorial in Westchester, New York. One of his best known works is the populist but controversial "Anna Livia" monument, which Dubliners quickly rechristened "the floozie in the jacuzzi". Originally positioned on O'Connell Street it was re-located in 2011 to the Croppy Acre near Heuston Station in Dublin.
Sculptor John Behan will be delivering the opening address on Thursday the 21st of May at 8 pm and curator John Fitzgerald will give a talk on the exhibition on the closing night 11th of May also at 8 pm. All are welcome to attend.
Phone: United Arts Club +353 1 661 1411 – Irish Art Oslo +47 930 68 032
Web: dublinarts.com – irishart.no
E-mail: office@dublinarts.com – john@irishart.no
Free Event
UPDATED:
Encircling Worlds: Imagining Irish Suburbia
September 12-13, 2014
Carlow College and VISUAL Centre for Contemporary Art
Carlow, Ireland
Plenary Speaker: Professor Michael Cronin (DCU). 
In the final decades of the twentieth century and in the early years of the new millennium, the spaces of Irish suburbia have been significantly transformed. From the enlargement of commuter belts, residential areas, and the commensurate construction boom in apartment complexes, to the redevelopment of housing estates and older forms of residences, the socio-geographical configuration of the Irish suburb has undergone unprecedented change.
This conference seeks to explore how Irish writers and artists have consciously responded to the evolution of the Irish suburb and also how the changed nature of the Irish suburb has placed new demands and pressures upon Irish cultural and artistic forms. We welcome papers on themes and topics including, but not limited to, the following:
–          The aesthetics of Irish suburban literature. The amenability of the short story,                   the novel, drama, film, television, or photography to Irish suburban experience.
–          Traditions of Irish suburban literature and the sublimation of older forms of         Irish suburban art into contemporary narrative forms.
–          Suburban identities: sexuality, gender, class.
–          Suburban cultures: heterogeneity and homogeneity.
–          Irish suburbia and the Celtic Tiger and/or legacies of the Celtic Tiger.
–          Irish suburbia and childhood.
–          The question of the Irish suburb as a site and source of creativity.
–          Migration, emigration, immigration within and to Irish suburban spaces.
–          Globalization/Glocalization in Irish suburbia.
–          The ecological impact of Irish suburbia.
–          Suburban Gothic.
Conference Readings and Events:
Authors Patrick McCabe, Peter Murphy and Oona Frawley will give readings at the event.
There will be a screening of Pat Collins's, award-winning documentary Living in a Coded Land.
The conference will also run alongside the launch of the Autumn season in VISUAL Centre for Contemporary Art, featuring Mary McIntyre's 'A Contemporary Sublime' plus new place-specific commissions by Sean Lynch and Adam Bohanna.
Extended deadline for receipt of proposals: 1st August, 2014
We welcome proposals for papers and panels. Papers should last approximately twenty minutes maximum. Please send proposals of 200-250 words and a brief biography to the following email address:  risbcarlow@gmail.com
Conference Organizers: Dr Simon Workman, Dr Eoghan Smith, Ann Mulrooney (CEO VISUAL)
Conference Website:
http://www.visualcarlow.ie/events/info/encircling-worlds-imagining-irish-suburbia
Drama and Theatre Studies, School of Music and Theatre,
University College Cork
Presents
Irish Society for Theatre Research Conference 2014
CONSCIOUSNESS AND COGNITION : THEATRE PRACTICE AND PERFORMANCE
Friday 23rd and Saturday 24th May 2014
The 2014 annual Irish Society for Theatre Research conference will be hosted by Drama and Theatre Studies at the School of Music and Theatre, University College Cork, Ireland. The theme of this year's conference is 'Consciousness and Cognition – Theatre Practice and Performance'. Related topics and all aspects of research on theatre and performance will be welcome.
Confirmed keynote speakers
Kristin Linklater, vocal coach, acting teacher, Head of Acting (Theatre Arts Division, Columbia University)
Bruce McConachie (Chair, Professor/Director of Graduate Studies, Theatre Arts, University of Pittsburgh)
Conference description and call for papers:
In the sciences and humanities, in the performing arts and digital media, the late twentieth and early twenty-first centuries have ushered in a wave of renewed interest in pivotal questions surrounding consciousness and mind. Cartesianism, the belief that mind and corporeal body are mutually exclusive, has long been superseded but we are still absorbed in questions such as: What is consciousness? What is mind? What is the relation between mind and consciousness? What is the relation between mind and body? How does the body think? These lines of enquiry are now just as important to those in theatre research, theatre practice and performance as they are to those in cognitive science and its associated disciplines. In books such as Performance and Cognition: Theatre studies and the cognitive turn (2006) and Theatre and Mind (2013) Bruce McConachie and other international researchers have initiated conversations between theatre/performance scholarship and cognitive science. Since Stanislavski's investigations into the relationship between body and mind, meanwhile, a variety of theatre practitioners and theorists have been adopting a cognitive scientific approach to their work. Examples include, voice specialist Kristin Linklater's seminal work Freeing the Natural Voice which draws on new insights from neuroscientists such as Antonio Damasio into connections between mind, emotions, body, and consciousness; Phillip Zarrilli's theories on acting which focus on embodied consciousness and the performative moment; and Katie Mitchell's research into neuroscience and the physiology of emotions which replace psychology as her key point of reference as a theatre director.
In keeping with this the 2014 conference of the Irish Society for Theatre Research offers a wide platform for discussion, performance, practical workshops and keynote lectures. We invite proposals for papers which explore drama, theatre, performance, practice, and spectating through the lens of cognitive science or its associated disciplines:- psychology, philosophy, neuroscience, anthropology, linguistics, artificial intelligence, education. We encourage submissions on international as well as Irish theatre and performance. Other related topics are also welcome.
Only members of the Irish Society for Theatre Research may present papers at the conference. Membership application forms will be available during the event.
Please send a short (max 300 words) proposal to the conference organizers by email to moc.liamgnull@4102rtsi on or before 14th February 2014. Please include with your proposal your name and institutional affiliation (if any) and AV requirements for presentation.
Selected papers may be published as part of the proceedings of this conference.
Organizing committee: Dr. Bernadette Cronin, Dr. Marie Kelly, Dr. Roísín O'Gorman, Drama and Theatre Studies, School of Music and Theatre, University College Cork.
Enquiries to:
Dr. Marie Kelly, Drama and Theatre Studies
School of Music and Theatre, University College Cork
Tel | 00353-21-4904339
Email | ei.ccunull@eiram.yllek
ISTR 2014 is generously sponsored and supported by:
Research and Innovation (UCC)
Department of Drama and Theatre Studies (UCC)
School of Music and Theatre (UCC)
College of Arts, Celtic Studies and the Social Sciences (UCC)
Call For Papers – NISN 2014, Aalborg University, Denmark
May 7-9, 2014
Ireland and the Popular
Welcome to the 9th biennial Nordic Irish Studies Network conference, which will be hosted by Aalborg University in Denmark. The theme of the conference is 'Ireland and the Popular.' The territory of 'the popular' is a contested one, not least in an Irish context. While discourses, ranging from politics to aesthetics, regularly claim to know what is popular and why, there is no consensus as to what defines the popular: is it a function of mass and majority, or is it rather an essentialist category springing from the folk tradition of a given region or site?
This problem of definition and delimitation has etymological roots. Popular literally means 'of the people', but what of the Germanic alternative to the Latin root 'populus': the folk?
This conflict between imaginings of the popular has been thematized in the British and continental European debate about the culture industry, where mass culture was considered evil (because of its capitalist origins and profit-making function) and a corrupting influence on the authentic culture of 'the folk', whether urban working class or rural. High or elite culture on the other hand was traditionally considered as having a civilizing or didactic influence on the people (giving them the possibility of becoming 'cultured'). We thus have a triangle of cultures battling for the domain of 'the popular': 'folk culture' claiming the territory of the authentic; 'mass culture' claiming pride of place for its dominance in terms of volume; and 'high culture' claiming dominance because of its didactic capacity and permanent aesthetic value.
The conference seeks to explore the contested ground of 'the popular' in an Irish context: The popular vs. the folk; High art vs. folk art; Mass culture vs. elite culture.
Papers on all manifestations of the popular in Irish culture, literature, arts, society and history are welcome. Phenomena to be explored could include, but are obviously not limited to:
Popular culture – artefacts and ways of life
Folk culture, art and music – authenticity and spokesmanship
Magic, the mystical, cunning – Irish myths and mythologies
Literature and its positionings vis-à-vis the popular and the elite
Pop and compositional music – traditions and tensions
The visual iconography of the popular (in media, the street, museums)
Stereotypes of Irishness in film, narrative and images
Attacks on popular culture, culture debates and wars
Representations of the popular in literature and film
The idea of 'the people' in politics and history
Populism and politics
Abstracts of no more than 300 words should be sent by email to Bent Sørensen at the following address: bent@cgs.aau.dk. The deadline for submission of abstracts is 1 February 2014.
16 May 2013
New Crops, Old Fields (Re)Imagining Irish Folklore
5th – 7th September 2013
Queen's University Belfast
From our homes to our houses of government, from our schoolyards to our stadia, from our galleries to our gable walls, folklore is being re-imagined in all aspects of everyday life in Ireland. Today, with globalised, media-centric culture, the folk traditions take on new lives in music, literature, theatre, radio, film and television, advertising and tourist industries. The ancient stories and characters still find a place within the new multicultural Ireland and their depiction continues to evolve. Irish folklore has been made new again, in a regenerating of the tradition, where the old and the new, the oral, the textual and the visual intermingle. This conference aims at exploring the rich traditions of Irish folklore, and looking at the various ways it is being, has been or indeed was, re-purposed and reinvented. We hope to bring together researchers at various stages of their careers, both professional and postgraduate, working on any and every aspect of the folklore of Ireland, its reappropriation and dissemination up to the present day or indeed the reuse of traditions. We welcome proposals from researchers in the fields of Agriculture, Anthropology, Archaeology, Architecture, Dance, Drama, Ecology, Film Studies, Folklore, Geography, History, History of Art, Languages, Literature, Media Studies, Music, Philosophy, Politics, Sociology and Theology, Tourism Studies. Topics may include (but are not limited to) the reuse of legends, myths, beliefs, folktales, songs, rhymes and riddles, music, dance, sayings and proverbs, customs, oral history, etc in: – Visual arts (paintings, sculptures, dance, etc) and iconography – Film, television and radio, music, theatre and performance – Advertising, tourism, the diaspora and folklore around the world – Literature, in English or as Gaeilge, children's literature – Food and drink, urban folklore, politics – Comparative approaches of the reuse of Irish folklore and international folklore.
Confirmed keynote speakers : Prof. Diarmuid Ó Giolláin (University of Notre-Dame), Prof. Harry White (University College Dublin) and Prof. Luke Gibbons (National University of Ireland, Maynooth). There will also be performances from Irish musicians and storytellers. Please submit proposals of 300 words for 20-minute papers and a short biography to newcrops@qub.ac.uk by 15th June 2013. 
28 March 2013
 The Scotland, Scandinavia and Northern European Database (SSNE)
The SSNE database is an online, free public access database, which holds information on approximately 8000 'individuals from Scotland, England, Ireland and Wales who migrated to or worked in Denmark-Norway, Sweden (inc. Finland), and the Baltic countries between 1580 and 1707'.
The database was originally funded by the University of Aberdeen's AHRC Centre for Irish and Scottish Studies,  and compiled by Professor Steve Murdoch and Dr Alexia Grojean. It is now permanently based at the University of St Andrews. The database is a work-in-progress and will expand as new data becomes available. There appears to be plans for a Web Portal so that information held by National Archives of Sweden, National Archives of Norway and National Archives of Scotland, for example, can be linked to a search on the SSNE database.
To search the records you must first register, which is a fairly straightforward process. Access to the database also includes access to a forum, with general information (posts) related to the database and other posts on publications etc.
http://www.st-andrews.ac.uk/history/ssne/index.php
5 February 2013
Writing Home: Irish Culture and Wartime Europe, 1938-48
Trinity College Dublin, 13-14 June 2013
Call for papers
If Europe, as Dan Diner has written, 'seems more and more to be finding a common unifying memory in the events of World War II', then what are the cultural consequences of this dynamic process for Ireland?
The decade between 1938 and 1948 was a time of immense revolutionary upheaval across Europe, but tends to have been characterised as a time of stagnation and isolation forIreland. During these years, however, many Irish writers and artists travelled extensively across the continent, whilst several of their European counterparts arrived inIreland. Taking these migrations as a starting point, this symposium will examine afresh the history of this decade and its impact on Irish cultural memory. Writers under consideration may include, but are by no means limited to: Samuel Beckett, John Betjeman, Christabel Bielenberg, Hubert Butler, John Hewitt, Denis Johnston, Thomas McGreevy, Brian Moore, Francis Stuart, and Rebecca West.
As cultural memory is mediated through a wide variety of discourses and artefacts, from literature to visual art, architecture, film, music and journalism, we welcome interdisciplinary participation from the fields of modern languages and literature, media studies, history and history of art. Possible topics include but are not limited to:
Memory, migration and identity
Art as a memory trigger
War reportage
Cultural communities
Emigrés and refugees
Life writing
The visual arts and architecture
Allegiances and affiliations
Censorship
Secret histories
Diaspora
Collaboration
Forgotten writers and artists
Documents and archives
We invite abstracts for papers of twenty minutes duration, and also invite proposals for panels that provide a platform for innovative or challenging approaches to these issues. We particularly welcome proposals from early career academics and graduate students.
Please send a 250-word abstract with a brief biographical note to Dorothea Depner and Guy Woodward at writinghome2013@gmail.com by 10 March 2013.
http://writinghome2013.blogspot.ie/
21 January 2013
IRISH MEMORY STUDIES NETWORK
Irish culture is obsessed with the past. From the public commemoration of historic events to private memoirs of childhood, we cannot escape the remembrance of things past in our literature and culture, and the spaces of the Irish landscape. And this is not a new phenomenon; representations of the past have always been an integral element of howIrelandis imagined and framed. Given these traditions, and the particular emphasis of Irish remembrance culture on loss, how can we use the lens of memory studies to read Irish history and culture? Should we be reading the Irish past under the sign of trauma? Are the events of the past to be resolved through commemoration or will they – should they – remain as provocative elements of our present?
***
This Network arises from the emergence of memory studies, and trauma studies, as critically important discourses in understanding Irish culture and society. Whether discussing the recent past or more distant histories, our conversations are marked by an interrogation of what and how we remember; what and how we choose to commemorate; and what we forget.
These questions, and more, have prompted the establishment of this Irish Memory Studies Network, with the aim of opening up a critical dialogue on aspects of Irish Memory. The network will be multidisciplinary with a view to generating discussion across disciplinary boundaries and, it is hoped, laying the foundations for collaborative research work.
The network will provide a forum for discussion, kicking off in Spring 2013 with a seminar series, funded by the Irish Research Council, addressing issues of commemoration and gender. The seminar series will be hosted by the Humanities Institute of Ireland at UCD and we welcome anyone with interest in this broad field. There is also a limited amount of funding available to support the attendance of postgraduate students at the lectures. Please see overleaf for details.
In September, the network will officially launch at a symposium addressing memory and trauma: The Body in Pain in Irish Culture (supported by theCollegeofArtsand Celtic Studies, UCD).
Register
We hope that this seminar series, and symposium, will provoke your interest. If you would like to register your interest in becoming a member of the network, attending the seminars, or you have any queries, please contact the network director, Dr Emilie Pine (Emilie.Pine@ucd.ie).